How to Create Your Very Own Playlists
June 13, 2017
One of the unique and exclusive features of Baby's Brilliant is our PLAYLISTS function.
Parents or educators are able to create multiple playlists from the items they have purchased.
This allows them to control the content that the children get to watch.
On the top right of the home page, just click on the MY PLAYLISTS icon
That opens a page that prompts you to create your very own playlist
When you click on the tab, a page opens with your media and prompts you to name your playlist, choose a cover image if you'd like and then select
the items you want to put in that playlist.
In our first example, we will call the list PAULINE BOOKS and choose four books to put in that playlist.
Simply check the box under the item desired and a blue outline will appear around that icon. Repeat for every additional item you want to add to the playlist.
Then go to the bottom of the page and hit SUBMIT…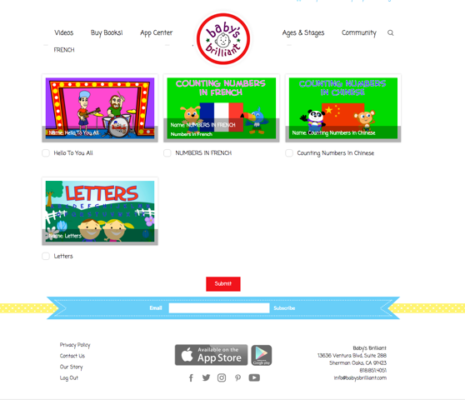 Your playlist is created and will automatically play.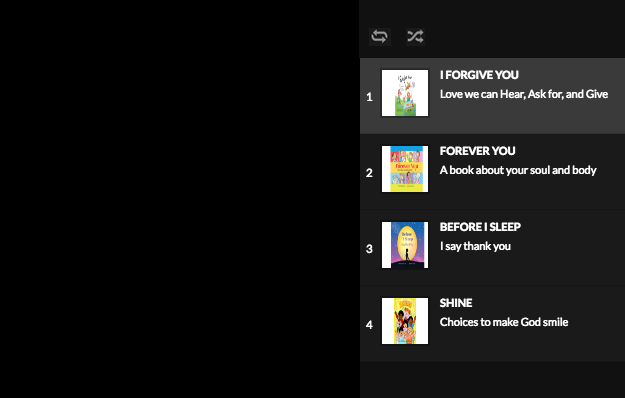 You can choose to change the order of the items in the playlist, by simply holding the mouse on the item and dragging it to the position you desire.
Once you have created your BOOKS playlist, you may want to make a BEATBUDS playlist
Just click on CREATE PLAYLIST and name it BEATBUDS VIDEOS…
Select the BeatBuds videos you have purchased, by checking the box under the icon and click "Submit" at the bottom of the page…
and your new playlist will automatically play
You now have a PAULINE BOOKS playlist and a BEATBUDS playlist.
You can create as many playlists as you want, with as many different items as you wish.
You can add or delete items in your playlists by simply clicking on the "crayon" icon under each playlist.
This will reopen your playlist selection and allow to uncheck unwanted items or check on others to add them.
You can click on the "trash can" icon to delete the playlist all together.
You're now ready to start your playlist!