A THANKS TO OUR MILITARY FAMILIES
A THANKS TO OUR MILITARY FAMILIES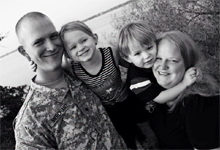 November 20, 2014
The holidays are upon us, and this is the time when families get together to express thanks and celebrate, but, a lot of our men and women in uniform, who are serving our country and protecting our freedom around the world, are deployed away from their little ones for long periods of time.
Baby's Brilliant wants to give those parents an opportunity to connect with their babies and toddlers. As we introduce our new series READ ALONG BOOKS, we want to give our soldiers the opportunity to read the story to their child.
Here are easy steps to help each get started:
Sign up for access to our site
Our first book will be available to choose from and a script of the story will be sent.
Parent will record their voice using the script and the memo feature on their phone (a short video intro and good-bye are also great to include).
Email us the recorded script.
Baby's Brilliant will edit reader's voice into the story and post it on a dedicated page on Baby's Brilliant.
Once this is all completed, your children will be able to read the story and hear it narrated by their mom or dad who is far away, serving our country.
This will be done at absolutely NO CHARGE to our military parents.
Just a small way for all us at Baby's Brilliant to express our gratitude to all those serving our country.
Below is a short clip and example from our first book about friendship and anti-bullying:
If you like this,
please do grab a hard copy
. It makes a great holiday gift and now for only $10!
To sign up for the Special Soldier's Read Along Books, simply click on the button below to direct you to the post with a review of It's Alright to Be Different. Then please scroll down to the bottom of the page and enter in your info.